About IM Magazine
A monthly magazine of recent works by women photographers.
Inge Morath regarded the label "woman photographer" with suspicion. She was, Morath said, a photojournalist, though she admitted to being personally committed to supporting the careers of the young women who came to her from around the world for advice and encouragement. After she died in 2002, the Inge Morath Award was established to commemorate her personal and professional generosity, particularly towards that tiny minority of her female colleagues at Magnum Photos and those who have hoped to join it.
Since its inception, each year one or more exceptional young women photographers have been named as recipients of the IM Award. Of these, one (Olivia Arthur, '07) has gone on to become a Magnum nominee, while another (Jessica Dimmock, '06) is now a member of the VII Network. In the year since Emily Schiffer was named recipient of the 2010 Inge Morath Award, she writes, "the IM award really opened doors for me: I was a winner in the PDN Photo Annual Personal Project category, and I also won the Arnold Newman Prize for New Directions in Portraiture. I also won the Wine Photo photo contest and I have my work up on the Burn Magazine site (all this in the past month!)."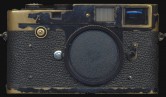 IM Magazine is being created in order to extend Inge Morath's legacy of encouragement to more of the many talented young photographers who apply each year for the Inge Morath Award. Beginning in fall 2010, IM Magazine will present monthly, web-based presentations of notable projects by Inge Morath Award winners and finalists, as well as by invited applicants for the Award. It is our hope that this opportunity will expand both the field of applicants for the Award and the level of public exposure available to the presented photographers and their works. As a viewer of IM Magazine, we encourage your active participation by leaving comments and questions for the photographers and for the editors of IM Magazine.
Please check back regularly, or watch for updates on Inge Morath's Facebook page.